Shirley's Story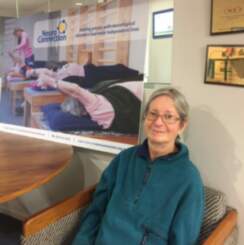 Quiet though she may be, 100% commitment she gives
Shirley came to Neuro Connection over 18 years ago after suffering a stroke while overseas in Greece. She was on her OE at the time experiencing some amazing countries and was only 45 years young. It was 4th February 1998 and she had to be helicoptered off the island to make it to the nearest hospital.

Shirley made her first visit to Neuro Connection Foundation through a family member who was friends with a member of staff, and she had also been referred by her physiotherapist. When Shirley first joined our classes she moved very slowly, spoke in a whispered voice and was fully paralysed on her left side. She was hugely dependant on her family and didn't have the necessary skills or confidence to live her life as independently as she once had.

Ten years on, Shirley has gradually picked up the pace again and has developed the necessary task movements to improve her ability and independence. Shirley comes twice a week from her home in the North Shore. That commitment alone means she can now state with pride, "I live on my own." Although she is given a bit of slack from her friends for still being a little on the quiet side, she has re-built confidence and volume back into her voice again.

Shirley believes in why Neuro Connection exists and what they are working to achieve. She says, "The conductors are excellent at understanding ability levels and providing that gentle push when we don't have the confidence." In the group sessions, Shirley has made some remarkable friendships that motivate her to be better than she was yesterday. She says she also sleeps much better these days too, which is a sure win for anyone!

Today Shirley is a very engaged and active member among her friends that also attend the foundation. Although still paralysed to a degree on her left side, mostly her left arm, she walks unaided and speaks with ease. Shirley loves coming to class and states firmly that, "I would come more if it were closer."

So, where would Shirley have been without this service? She doesn't want to think about it, but instead speaks with a confidence and a 'go get 'em' attitude. You can hear it in her voice, she's not one to be beaten and she walks out her front door every day aiming to be the best version of herself she can be. Understand this and you understand the 'WHY' to Neuro Connection Foundation's existence.