Denise's Story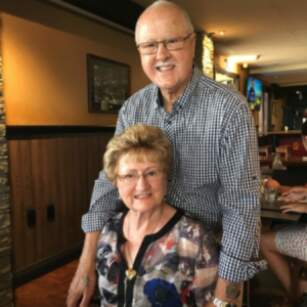 "It's my Conductive Education day, I just love it!"

I was 57 years old when the stroke happened. I worked for the National Bank in the telephone banking area. My husband Frankie and I were getting ready to retire from our jobs - Frankie was a builder. We had just returned from a wonderful 10 week overseas holiday to England, Spain, Wales, Scotland and the United States. We spent all our money, never knowing what was looming around the corner. I'm glad we did the trip and I've seen all those wonderful places. My message to everyone is "don't put off your plans or dreams for travel later, or when you turn 60 years – JUST GO!!"
My job had sent me down to Wellington and it was during the plane trip down that I had a stroke – I simply blanked out. I suppose you could say I woke up from a fog three months later in North Shore Hospital. I can't remember a lot from that early stage. I couldn't talk but after a while I told myself I had to be strong, and tried to put my life back again.
I count myself lucky that I have two lovely children, my son Zane and daughter Loren, and my husband Frankie is just wonderful!! He's my caregiver – I can't express in words what a blessing he is for me. My son-in-law Heath is also so helpful.
After the stroke, I went to Rehab Plus for six months, which was just fabulous, and then I joined a talking group and also went along to Wai Health, where I heard about Conductive Education.
Now I am able to do more talking and I try to do more things around the house. Twice a week, I tell everybody that they can't visit or anything, because that's my Conductive Education day. I just love it!!